MARKETING & TRANSACTION FEES
Performance-based marketing platform
Pay as you go. No hidden fees, no monthly or yearly costs. It's that simple.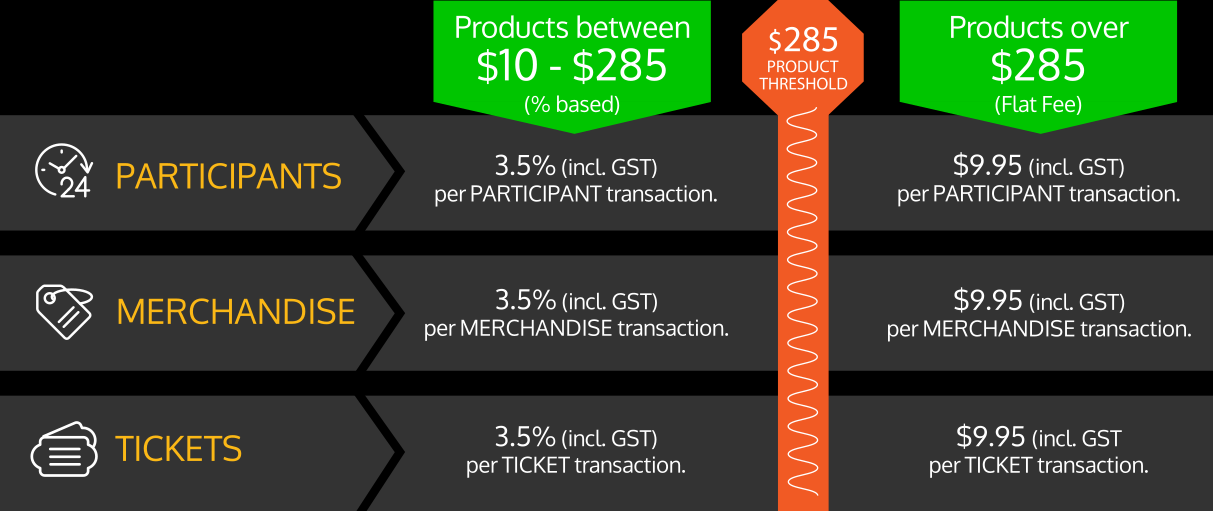 Please note:
MINIMUM YOU CAN LIST TO CHECKOUT IS $10
If your listing offers sessions, classes or games that are under $10 then
please bundle 2, 3 or 6 to make the checkout minimum work for you.
Payment options
Add comprehensive payment options without all the setup stress.
How payments work
Checkout PRODUCTS that can create and add
1. PARITICIPANT PRODUCTS
Registrations, memberships, classes, sessions, coaching, camps and academies
that requires physical participation.
2. MERCHANDISE PRODUCTS
Hats, Shirts, Shorts, Socks, bags etc that they add to their checkout cart.
3. TICKET PRODUCTS
For events, presentation nights or fundraising ideas.
4. FREE PARITICIPANT PRODUCTS
Trials and promotions to try your sports or fitness activity at $0.

Your branding appears on your sales receipts to PARTICIPANTS via SIGNONDAY.
All sales for any of the products you process through your SIGNONDAY cart is paid weekly
Benefits of joining our community
Your dashboard access will allow you to setup easily and access tools & features.
Branded marketing listing - 365 days, 24/7.

Be found fast and easily on our localised mapping system.

Use of our merchant checkout processing which offers DEBIT/CREDIT CARD, ZIPPAY, ZIPMONEY, OPENPAY or PAYPAL.

Easy dashboard to manage your listing and update your prices anytime .

Simple reporting to show PARTICIPANT sales and enquires.

Generate more enquiries from your published information and prices.

Customer support from SIGNONDAY SUPPORTHUB to help process your PARTICIPANTS to help eliminate time and effort at your end.

Add products as well to help with ordering when registering PARTICIPANTS.

All fees from us is collected up front and paid to your nominated bank account weekly based on the sales total for that week prior.

Create early bird marketing discount codes and bundle family registration discount codes.

Publish all your facebook content on your listing so information does not have to be done twice and links to other social media channels you post.